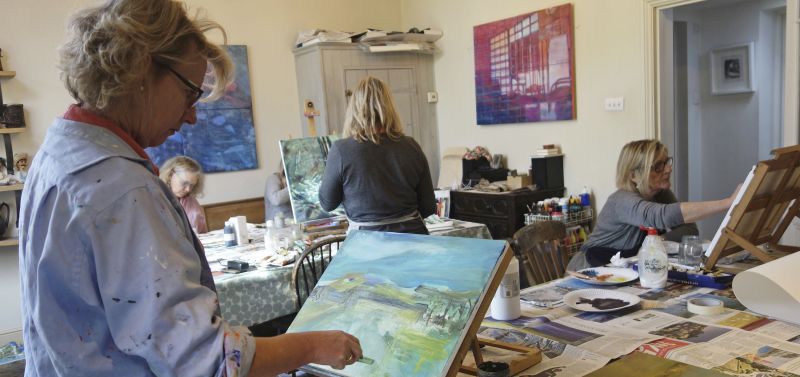 Art-Atelier Adult art Classes are taught by Hermione and are suitable for all levels of experience. Groups are small to allow for individual tuition and for students to develop their own personal projects and ideas. There is a general theme each term, but with freedom for each student to interpret in different ways.

An example of a recent project:

Nature
incorporating themes such as: the natural order; rebirth; nature's design; animal skin; nature/nurture; still-life; self-portrait
There is a friendly, supportive, enjoyable and relaxed atmosphere to the classes. Materials are provided enabling people to experiment with a wide variety of media. Classes are run on Tuesdays mornings.
Hermione's adult teaching marries a lifelong enthusiasm for the creative process with a desire to develop the individual artist within the wider context of the group. She gives careful thought to the themes she sets for the class each term, which afford each member the opportunity to tackle new subject matter, experiment with different media or to progress their own field of interest in greater depth. She does not favour the one-size-fits-all approach that is prevalent in many adult art schools: rather, she encourages the student to develop their own particular style and is on hand to offer tailored tuition that both challenges and informs. A practising artist herself, she is sympathetic to the needs of each class member, and provides sensitive, thoughtful and practical advice, as well as really good coffee!'

Jackie Naffah current student